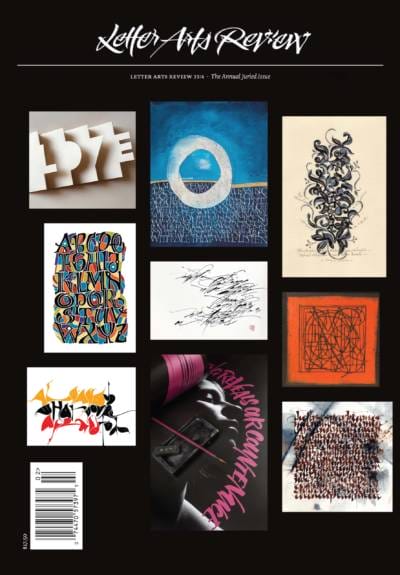 Annual Juried Issue
Call for Entries
This is a call for entries into the Annual Juried issue (36.4) and is open to original works that employ hand lettering or calligraphic marks as a major element. This includes traditional and nontraditional lettering, calligraphy, type design, and letter carving, as well as graphic design, book art, and fine art.
CLICK HERE TO SUBMIT YOUR ENTRY NOW
ENTRY DETAILS
Eligibility: Works created since January 1, 2021, are eligible (except those previously published in Letter Arts Review). All works selected will be published in the Annual Juried Issue 2023.
Deadline: This year's deadline for entries is: November 30, 2023.
Notifications: We will contact you by e-mail once we have received your entries. Once the judges have made their selection, we will contact you again by e-mail to inform you whether your piece has been chosen.
If your work is selected by the jurors: We may ask you to have your work rephotographed by a professional art photographer to provide the best image for reproduction. We will ask for more information about your work: media used, dimensions, author of the text (if any) and its source, and client (if any). We will also ask for a brief biography.
PAYMENT
Fees: A one-time fee is payable when you submit your entries. The rate is US$16.50 for each work submitted.
QUESTIONS
If you have questions about how to prepare your entry, contact the editor, Christopher Calderhead, at christopher@LetterArtsReview.org.
If you have questions about how to pay for an entry or any other questions, contact:
info@LetterArts Review.org.